August 10, 2017
B.C. and Pacific Northwest teams compete at Steveston Dragon Boat Festival, August 26 
Festival combines ocean sport with visual, culinary, and performing arts.
Team registration sold out in May for the popular Steveston Dragon Boat Festival coming up Saturday, August 26 at the Britannia Heritage Shipyard in Steveston Village. A record 72 teams will compete this year coming from the Lower Mainland, Okanagan, Sunshine Coast, Vancouver Island, and Washington State. An estimated 20,000 people are expected to line the waterfront to watch racers of all skill levels paddle in sync to the beat of the dragon boat drums on 1,200- metre and 3,500-metre courses.
This year's action on the water includes 48 mixed and 24 women's teams with 20 percent comprised of seniors' teams showcasing that age is just a number. The all-day event runs from 8 am to 5 pm winding up with the Junior and Senior Cup championship races.
Festival fun includes main stage music and urban street food
More than a boat race, the Steveston Dragon Boat Festival also serves up a full day of beachfront musical entertainment on the World Beat Main Stage, from hillbilly swing to Latin and Mariachi bands. Starting at 11 am and hosted by DJ Stephen Yau, performers include the Winston Matshushita Trio, Los Tambores, Las Estrelles de Vancouver, and The Palomers.
Festival-goers can dine outdoors on street food from their favourite food trucks, including Teriyaki Express, The Travelin' Hot Dawg, Lottie's Gelati Stand, and the Tsawwassen Boundary Bay Lions Club community kitchen, whose volunteers will be serving up BBQ burgers while raising funds for people in need.
The Children's Arts & Crafts Tent opens at 10 am and entertains kids and teens with games, stories, painting, and other crafts.  Adults can head to the Beverage Lounge to sample offerings from Granville Island Brewing, Barefoot Wine & Bubbly, Bacardi Breezer, and Wards Hard Cider.
Volunteers welcome
Festival organizers are seeking volunteers for the one-day event, who, along with grateful appreciation, will receive a T-shirt, complimentary food and drink, and an invitation to a post-event BBQ at 5 pm. To volunteer, contact info@dragonboatbc.ca.
Click here to return to the Drum Beat Blog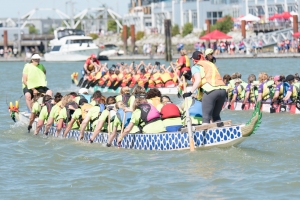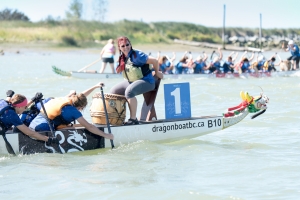 Photos Courtesy of Dyson Media