May 1, 2017
Contemporary 2017 festival poster unveiled
A colourful, contemporary new poster design has been created for the 2017 Concord Pacific Vancouver Dragon Boat Festival. London artists Katie and Paul Morris put their considerable skills to use combining bold shapes and colours inspired by Vancouver's urban landscapes and natural beauty.
General Manager Ann Phelps is pleased with the finished design and what it represents. "The Vancouver Dragon Boat Festival has always been committed to the visual, culinary and performing arts. It's important for us to be able to showcase contemporary local artists since our posters are seen throughout the world as part of our communication programs."
Ann continues, "We're proud to present this poster by Katie and Paul as it speaks to our commitment to visual arts in Vancouver."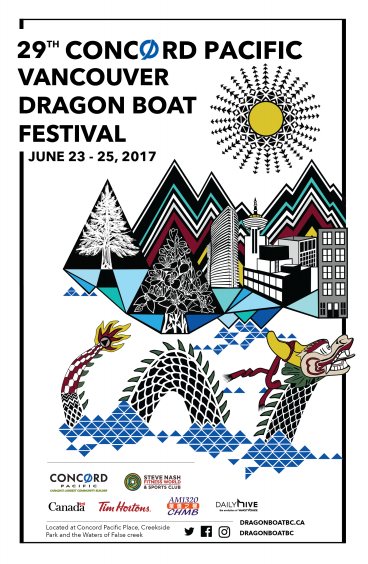 For more on KT & Paul print studio, visit http://www.ktandpaul.com.