July 21, 2017
Vancouver dragon boaters appear in The Amazing Race Canada 5
About 100 sleepy dragon boat racers met at 7 a.m. on a sunny day in early June. The under-18s were enjoying a day off school. Adults of all ages gathered around urns of hot coffee. Everyone was sworn to secrecy.
Organized into five teams, the paddlers were soon shouting "Pick us! Pick us!" Host Jon Montgomery, 10 teams of two contestants, and the CTV crew had arrived to shoot the first episode for a new season of The Amazing Race Canada.
Dragon Boat BC General Manager Ann Phelps said, "Sounds like fun," when CTV producers asked her if local teams would be interested in taking part in a dragon boat paddling competition for the show's fifth season premiere. Local paddlers were enthusiastic and she quickly pulled together the five teams needed.
On shooting day, The Amazing Race Canada contestants had a choice to either "peddle or paddle." They could play bicycle polo at Vancouver's Sunset Beach or race around a False Creek course with a dragon boat team. For the couples who chose to paddle, one was appointed the steersperson at the rear of the boat, while the other grabbed a paddle and a seat alongside the experienced dragon boat racers.
Ann explained the main commands for steering, including "paddles up," "take it away," "hold the boat" (aka stop), and how to get around the figure-eight race course. There were mishaps. She laughs, "Paddlers would go off course or get too close to the shore, the horn would sound, and they'd have to come back and start all over. The boats are tippy too. It was lots of fun to watch."
The non-steering team members also had their share of challenges staying in sync with the strong paddlers in the boats. One couple threw in the towel and defaulted to bike polo.
The Amazing Race Canada Season 5 kick-off  aired July 4 on CTV.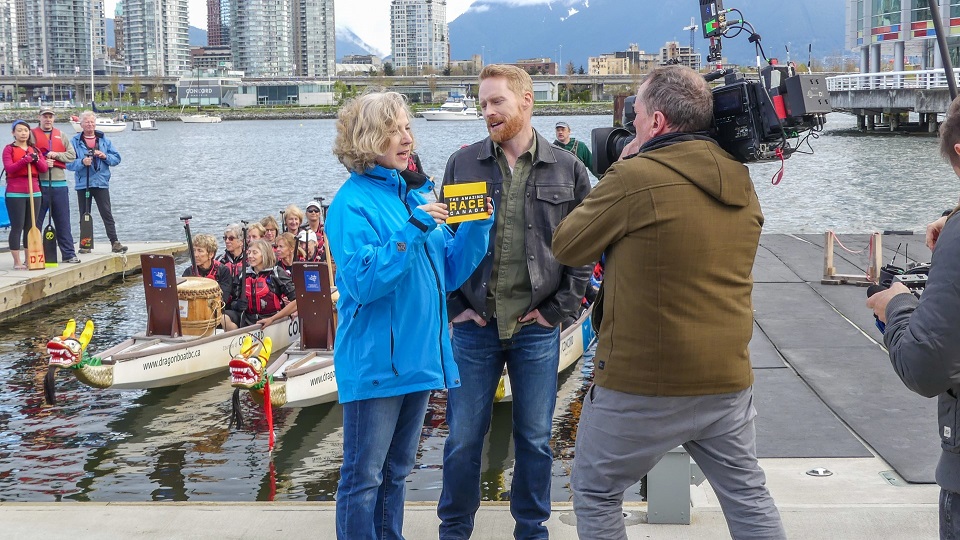 Dragon Boat BC's Ann Phelps works with host Jon Montgomery on The Amazing Race Canada 5 season premiere.    Photo courtesy of Dyson Media.